New SAMSON HVAC & EVAP, the most powerful unit of its range
In addition to its range of built-in air conditioning units – consisting of the 4,7kW Boreal, the 6,3kW Sanoa , the 7,4kW Austral Performa , the 8kW Austral- Siroco presents the SAMSON, the new most powerful air conditioning unit in its range, offering 9.8kW of cooling power, available in HVAC and EVAP versions.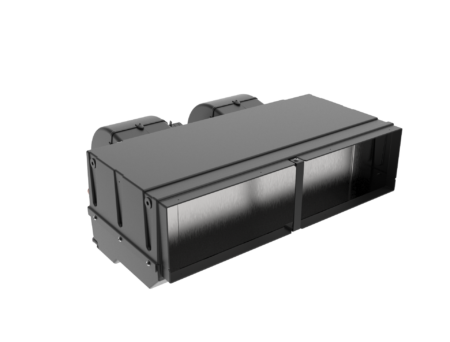 Powerful unit
Made of a TDS 1200 centrifugal blower, an antifrost thermostat and an expansion valve for flange, the SAMSON unit is available in 12V and 24V and offers 3 fan speeds. The SAMSON is also available with the optional brushless blower.
For the HVAC version, the SAMSON offers a cooling capacity of 9.8kW, a heating capacity of 9.2kW and a nominal air flow rate of 770m3/h.
For the EVAP version, the SAMSON offers a cooling capacity of 9.2kW and a nominal air flow rate of 800m3/h and an electrical capacity of 310W.
The SAMSON is 500mm length, 400mm width and 178.4mm heigh and weighs 10kg.
Easy to install
Ideal for medium and large cabins, the SAMSON can be installed horizontally anywhere inside the cabin, flush-mounted, under the operator's chair, or under the roof. The SAMSON meets the air conditioning and heating needs of cabins from 5 to 6m3 such as those of ambulances, agricultural vehicles, handling vehicles such as forklifts, utility vehicles and minibuses.
All Siroco products meet the R10 EMC standard.
Different front panels possible
The SAMSON is available with different front panels.

The D version offers six D55 screw-in sleeves. The sleeves are made of PA material with 30% glass fiber and have two Ø4.5mm mounting holes.
The F version offers 4 round Sensyo II XL 96 air diffusers, adjustable with 3 flaps, available with black, metal or silver trim. Made of ABS material, the diffusers are clipped onto a 1 to 8mm thick support.
Create your complete air conditioning kit
The SAMSON can be combined with our condensers below:
The CIERZO 8 KW condenser, available in 12V and 24V and featuring Parallel Floww technology, offers a power dissipation of 8kW. Two versions exist, with or without filter drier.
More powerful than the CIERZO 8kW, the new CONDENSEUR ELECTROVENTILE 815 has 2 straight outputs, is available in 12V and 24V, and offers a power dissipation of 16kW.
Are you interested in the SAMSON? If you have any questions, please contact our sales team directly via our contact form below.
Related products