E-BOX: new modular electric heater
The E-Box : new compact, modular electric heater for small cabs

FOR ELECTRIC VEHICLES WITH SMALL CABS
Composed of a TS 400 blower, a 20PPI air filter, a thermostat security and the E-BOX is easy to set up, vertically or horizontally at operator's foot, in small cabs – directly to the side / rear of the driver's seat, or embed into the dashboard.
COMPACTNESS AND COMFORT
The compact 328*256*158 unit is ideal for heating small cabs of electric vehicles: public works, agricultural, airport, forklift and special vehicles.
Available in 24V, 48V, 80V-96V, the E-BOX offers a heating capacity up to 2.1 kW, 3 heating capacities, a 200m3/h nominal air flow and an electrical ventilation capacity of 100W. These  performances have been tested and validated in Siroco climatic chamber. The E-BOX's sheet metal housing is a robust and shock-resistant unit.
MODULAR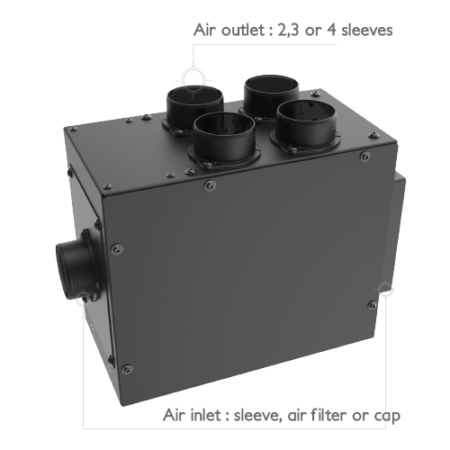 The E-BOX enables to create the electric heating you need: the air inlets and outlets are modular and can be adapted to your specific needs of space saving, compactness and thermal comfort.
For air inlets, choose either a 20PPI air filter (other on request) or a 55mm diameter straight air sleeve to screw.
For air outlets, choose between one, two, three or four straight air sleeve, diameter 55mm (other on request).
If you do not wish to use all the air inlets and/or outlets, the 45mm diameter screw cap (compatible with 40mm diameter) and the 55mm diameter cap (compatible with 60mm diameter) are perfectly suitable.
 COMPLETE KIT
The E-BOX is supplied with wiring harnesses and connectors.
For a complete thermal solution, Siroco offers the following related accessories:
CP2S control panel for electric heating, with 3 ventilation speed and 3 heating powers, available in 12V and 24V
PVC air pipe: operating temperature – 30°C / + 100 °C
P/A/P pipe, operating temperature: between -40°C / +160°C
Sensyo II 84 diffusers, adjustable with two flaps, operating temperature – 30°C / + 100 °C
Straight air sleeve to screw, operating temperature -30°C / +120°C
Cap to screw, operating temperature – 30°C / + 120 °C
20PPI filter, operating temperature – 30°C / + 100 °C