Siroco presents the new 815 electroventilated condenser, the most powerful in its range, developed to work with a powerful HVAC or AC unit and to offer optimum thermal comfort for vehicles operating in extreme climatic conditions in terms of humidity and heat.
Compact and powerful
Available in 12V and 24V, the 815 electro-ventilated sheet metal condenser has two straight outlets and Parallel Flow technology.
Among its technical specifications, the 815 electro-ventilated condenser offers a power dissipation of 15.6 kW, a nominal air flow rate of 4,100m3/h and an electrical power rating of 230 W.
In terms of overall dimensions, the 815 condenser is one of the thinnest units on the market at just 111.5 mm thick.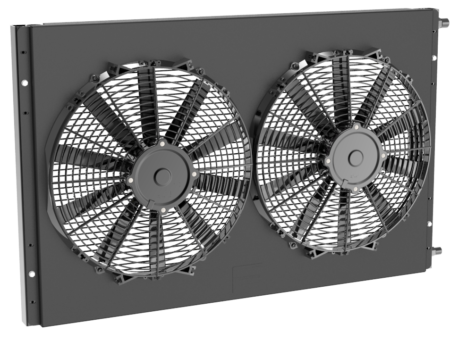 Ideal for medium and large cabins
Ideal for medium and large cabins, the 815 electro-ventilated condenser can be installed vertically or horizontally outside the cabins of construction, agricultural, handling or airport vehicles.
All Siroco products comply with the R10 EMC standard.
Discover all our electro-ventilated condensers, offering up to 15.6 kW of cooling capacity, equipped with Parallel Flow technology and developed to meet your thermal comfort needs:

Create your complete thermal solution
For optimum performance, the 815 electro-ventilated condenser can be perfectly combined with any HVAC-AC unit with high cooling capacity, such as the SAMSON, available in HVAC and AC versions.
The SAMSON HVAC and EVAP: available in 12V and 24V versions, the SAMSON offers a cooling capacity of 9.8kW and a heating capacity of 9.2kW, while providing a nominal airflow of 770m3/h.
Mechanical compressor: contact us for more details.
Interested in the 815 electro-ventilated condenser? If you have any questions, please contact our sales team using the contact form below.