E-DUO: new electric air conditioning E-HVAC & E-VAC
The E-DUO is the new 100% electric modular air conditioning system offered by Siroco.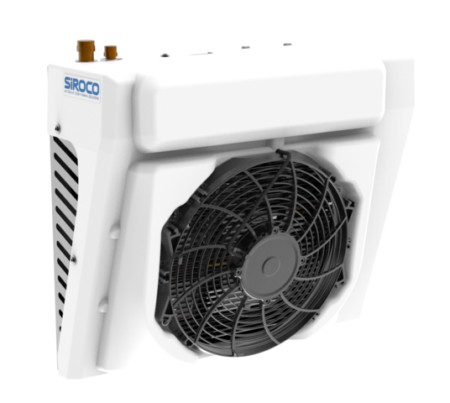 Consisting of a condenser 460, an electric compressor and a filter drier, the E-DUO has to be combined with an evaporator or with an electric heating, ventilation and air-conditioning unit (E-HVAC) :
To equip an electric vehicle, you must choose a hybrid exchanger which integrates an evaporator and a PTC electric heater.
Optimal thermal comfort for small and medium sized cabins
This new electric unit is aimed at cooling and/or heating electric vehicles, construction machinery, agricultural vehicles, material handling vehicles like forklifts, airport vehicles and crane cabins.
"Plug and Play"
The E-DUO is always mounted outside the cabin. Depending on the design of the cabin, the E-DUO will be placed either horizontally on the roof or vertically at the rear of the cabin. Installation is quick and easy: there is no need to manipulate the vehicle's engine, you just need a connection to the electrical system. The 570*480mm compact assembly requires low maintenance.
Acoustic comfort
Thanks to the Silent Block supporting the E-DUO, vibrations and shocks are absorbed, noise is reduced, acoustic comfort in the cab is optimized.
Depending on the environment in which your vehicle evolves and depending on the voltage of your compressor, Siroco will advise you to get the best E-DUO + VAC or E-DUO + E-HVAC couple to obtain best performances.
Up to 4.3kW of cooling power
Compressor voltages range from 12V to 96V, for cooling capacities between 2kW and 4.3kW and compressor capacities of 18cc, 24cc and 27cc. The estimated capacities below have been tested and validated thanks to our climatic chamber:
12V-18cc: 2 kW
24V-24cc: 3.7kW
48V-27cc: 4.3kW
80V-27cc: 4.3kW
96V-18cc: 2.7kW
Cabin temperature control
Two versions of control panel are available: on/off version with anti-frost electronic thermostat or control panel version with adjustable electronic thermostat.