SKY HVAC HEADLINER: new powerful and lightweight HVAC unit
Discover Siroco's new powerful and lightweight HVAC Headliner dedicated to medium and large cabs.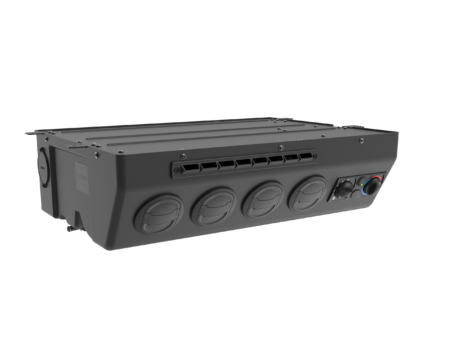 Ideal for medium and large cabs, such as construction machines and agricultural vehicles, the SKY HVAC Headliner is easily screwed horizontally under the roof inside the cab via 4 mounting brackets, thanks in particular to its low weight (11kg), which makes it one of the lightest HVAC headliners on the market.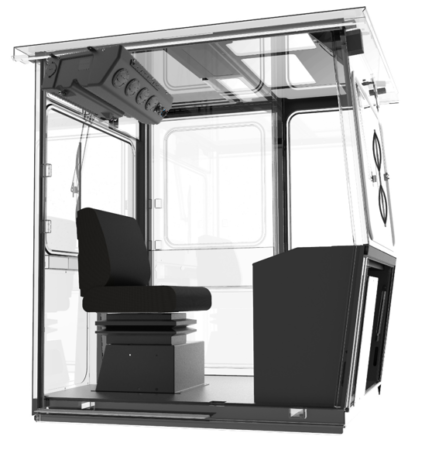 COMPACTNESS AND POWER
Available in 12V and 24V, the SKY HVAC Headliner offers a cooling capacity of 5kW, a heating capacity of 6.1kW and a nominal air flow rate with air filter of 385m3/h for an optimal thermal comfort in the cabin.
The 595*166*430mm unit is composed on its front side of :
CP2S control panel with 24V proportional valve, with 3 fan speeds, and two options: with or without A/C on-off switch and recycling or other switch option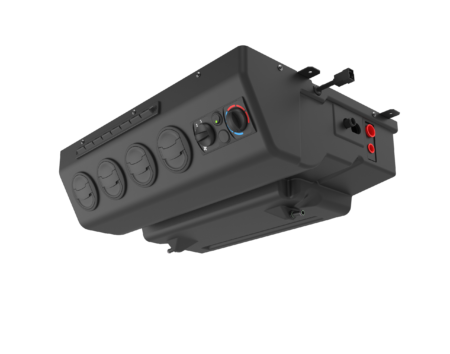 EASY TO MAINTAIN
On the rear side, the SKY HVAC Headliner has two optional air inlets of 55 or 60mm diameter – motorised air flaps, ducts and sleeves.
To make life easier for the operator, the 30PPI filter of the 350mm filter cassette is interchangeable.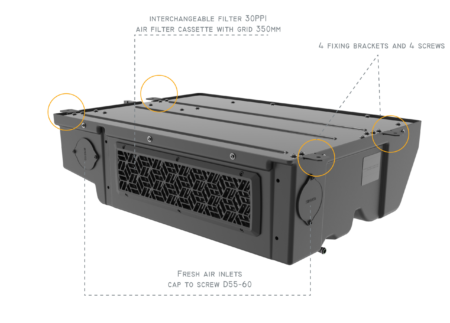 COMPOSE YOUR COMPLETE THERMAL SOLUTION
Composed of a TDS 800 24V fan and an electronic anti-icing thermostat, the SKY HVAC Headliner is ideally combined with the 7H15 7-cylinder mechanical compressor and the following condensers:
For vehicles operating in extreme thermal conditions in terms of humidity and heat, choose the 700 electroventilated condenser (11kW)
Other associated accessories :
If you have any questions, please contact our sales team directly via our contact form below.